Flash portuguese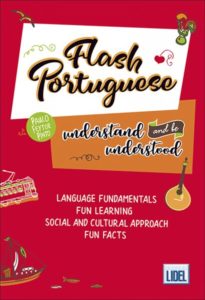 Description :
Anglais / portugais
Flash Portuguese is your perfect companion when visiting Portugal. It will help you to understand and be understood in most situations as a tourist or during a longer stay - meeting people, going to a restaurant, travelling around the country, choosing an accomodation, getting medical help, shopping... This teach-yourself manual is at the same time a phrasebook, a cultural guide and a scrapbook that will harness you with survival communication skills in Portuguese and give you a deeper knowledge of Portugal. Besides words, phrases, sentences and expressions (and some grammar!), Flash Portuguese offers you loads of social and cultural information and fun facts about the use of language in Portugal.
The author, a specialist in teaching Portuguese for foreigners, took in consideration the fact that your mother tongue might not be English. So, whenever possible, English words were replaced by pictures, other foreign languages are included, and there`s plenty of space for you to add your own language, namely in the dictionaries.
Let`s dive into Portugal through its language!